SecuVOICE or SecuSUITE are available for BlackBerry OS10 devices!
ICSL and its customers are happy that SecuVOICE or SecuSUITE are now available for BlackBerry OS10 devices. The solution can be seen as a real milestone in voice encrpytion and already received preliminary approval from BSI.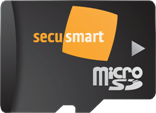 Making mobile communications secure – is that possible?
Tap-proof SecuVOICE communication with hardware encryption
Change smartphones and landlines to secret sources: With the Secusmart Security Card you can make secure phone calls in the best voice quality. SecuVOICE enables businesses and governments to protect their communications. With SecuVOICE you make tap-proof phone calls and SecuSMS encrypts your SMS.
Amongst the users who use SecuVOICE there is The German Confederation. (The system has become known as the "Merkel-phone").
The core is the Secusmart Security Card
The card combines hardware-based end-to-end encryption and cryptographically secured subscriber authentication.
Unique quality and simplicty
One of the major benefits (besides unreached crypto technology) is the easy handling and comfortable user interface of SecuVOICE.
Since 2008 ICSL GmbH & Co. KG is distributor for Secusmart in 28 countries. Together with its affiliated companies ICSL provides secure communications solutions of Secusmart plus local support and efficient services to governments and businesses.
Secured access to your business area

Encrypted transmission (e-mail, voice, text messaging, secure browsing)

Encrypted filing (data, contacts, notes)
Enjoy all the comfort of a modern smartphone.
In the personal area of the BlackBerry® Z10 you can access social media, chat, apps and music: without limit and to your heart's content.
Enjoy the best possible protection for your trade secrets.
The business area of the BlackBerry® Balance System has extra protection through the Secusmart Security Card. Your trade secrets are always kept perfectly safe during telephone calls, e-mails, text messaging and data transfer.
You want to manage your SecuVOICE (SecuSUITE) systems by yourself and also make calls to your mobile phone safe and also you want to hold secure conferences?All this allows the SES – Secusmart Enterprise Server, or the SES complete or the SES conference. All SES versions are only available as complete hardware and not as an appliance.

SES – Secusmart Enterprise ServerThe SES helps establishing a link between two SecuVOICE devices. SES also provides extensive security features regarding authenticating subscribers.

SES complete – SES for integration with PBXs (SecuGATE)Thanks to the specially created Secusmart server hardware with an integrated MKK card for encryption & decryption, you can secure your phone calls from mobile devices lead to the office.

SES conference – SES for secure telephone conferencesSES conference is a SES complete that is attached to a conference server.